I AM A BLOB INDUCED LIGHT SOURCE ARTIST FROM THE ROOT OF WAR AND A SELF APPOINTED PRESIDENTIAL MEDAL OF FREEDOM CANDIDATE WITH MY ART AS CREATIVITY OF THE MEDAL.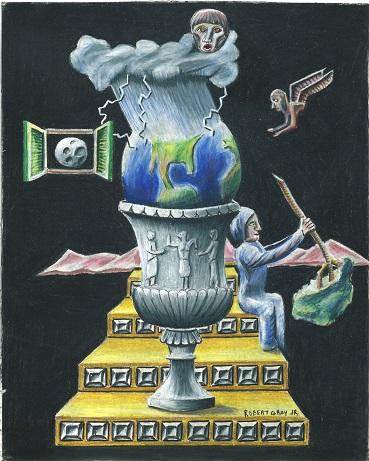 PLANET URN
original prismacolor on board
9 inches by 12 inches
ANGELS EXIST IN A POLITICAL FLAW: A REVELATION IN ART
My name is Robert Dan Gray Jr. (b.1961 Houma, Louisiana USA). I am a "Blob Induced Light Source Artist" from the root of war, which is legalized cockfighting, and I am a self appointed Presidential Medal of Freedom candidate with my Art as creativity of the medal.
I grew up with legalized cockfighting at home in Louisiana. I knew it was wrong. I believed the root of war was where humans mimic and think like animals. That's what was happening at home. Legalized cockfighting is inhumane and uncivil. My human and civil rights were violated. The law here says a gamecock is not an animal but is a fowl. It was a sad and twisted childhood. As a child I believed if I spoke about this political flaw it would cause a nuclear war.
When I was 14 years of age my younger brother and I were racing on motorbikes. I saw him get hit by a car and he died instantly. Everything was in slow motion and there was no sound. I saw his body go up into the sky and a black shadow separated from his body. At that moment I felt myself split and a part of me lifted with my brother's shadow. While I was up there I saw a bunch of black blobs going fast in all directions. I then saw a light and my brother's shadow went into this light. Then I saw a transparent blob come out of the light and it "hit" me. I started to feel myself slowly sink back down into my body. After this happened I believed if I talked about it the world would end. It was the same end of the world fear I had with legalized cockfighting at home. Growing up I felt something pressing on me like a weight. I did not realize at the time that it was from this blob. I did not tell anyone.
During college I was studying Art and Architecture. One night I was reading a passage in the Bible about fire from the sky. Instantly, I felt this weight or pressure rise from my feet, up my body and into a spot on my brain. It felt like steam hitting the inside of my skull. It felt good. It was a release of pressure. I thought to myself maybe this blob was trying to tell me something. It was. It was telling me to use this spot in my brain as a light source for my paintings and drawings. My paintings and drawings had no depth and were flat until I used this spot in my brain as a light source. They came alive instantly. It was a gift from GOD and had a message. This blob was an Angel. It's message to me is to help make cockfighting in the world illegal for Humanity. PEACE.


TESTIMONIALS:
" New York's Best Kept Secret" Bella Magazine, August 2019
" His artwork draws comparisons to surrealist painter Salvador Dali and mannerist painter El Greco"--- Houma Courier newspaper. "Houma Native Brushes The Surreal With Art". February 8, 2009 Houma, Louisiana
" I also like the fact that he has a wonderful surreal quality"... Peter Raarup, Art Collector. "Houma Native Brushes The Surreal With Art". Houma Courier newspaper , February 8, 2009
" His paintings also were displayed at the Metropolitan Museum of Art as part of an employee art show". "Houma Native Brushes The Surreal With Art". Houma Courier newspaper. February 8, 2009
" I believe each of the works selected stands on its own merits, and collectively they present a strong statement on the condition of contemporary art in the United States today" William A. Fagaly, Assistant Director for Art: New Orleans Museum of Art. 1985 Southdown Fine Arts Exhibit.